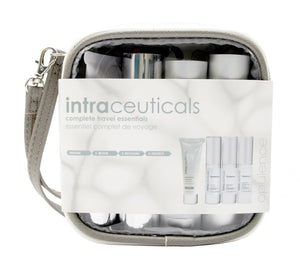 Intralayering Starter Pack - Brighten, Lighten and Hydrate with our unique 3 Step Hyaluronic Layering System in a convenient travel size.
Perfect for travel. Contains 25ml Opulence Brightening Cleanser, 15ml Opulence Daily Serum, 15ml Opulence Hydration Gel, and 15ml Opulence Moisture Brightening Cream.
Prepare, Revive, Replenish and Protect with products from the Opulence range.
More Information
Skin Concerns
Brightening and Dark Spots
Key Ingredients
Hyaluronic Acid, Vitamin A, Vitamin C, Vitamin E, Peptide Technology
Product type
Hydration Gels, Creams, Travel Essentials
How to use
Cleanse with Brightening Cleanser
Step 1: Revive with Opulence Daily Serum
Step 2: Replenish the skin with Opulence Hydration Gel
Step 3: Protect with Opulence Moisture Brightening Cream